Soft toys, Plushes

Sucre d'Orge's Cajou® and Doumou® are specially adapted for newborns. A 2-in-1 soft toy, baby's irreplaceable companion.
It's both a cuddly toy that baby can play with and an ultra-soft cotton square that folds up with the toy.
Easy maintenance and no removable accessories. Compliant with EC standards. Made exclusively by Sucre d'Orge.
> A tag with baby's and your contact information
> Possible to have embroidered baby's name
> Easy-to-grip shape, lovable character
> Service SOS DOUDOU® by Sucre d'Orge!

Sucre d'Orge's plus points:
The soft toys of Sucre d'Orge: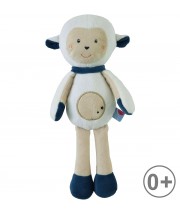 €18.90
€18.90

-56% !

€22.50

€10.00
€20.50
€14.50
€25.50
€26.90

-50% !

€19.90

€10.00

-50% !

€19.90

€10.00